The new Series has started:
THE DONOVAN DYNASTY
"BIND" is featured in the BTS's Mag for May 2015, see here…
Pre-order has begun. General Release is June 2nd, 2015.



.
BONDS Series: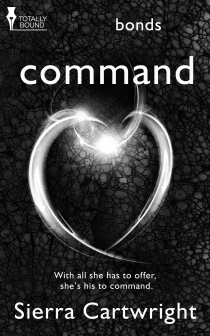 "command" book three in the bonds series is out
COMMAND stimulated my mind, body, and soul and brought such raw emotion with it.

A delightful and delicious read.
–Shayna Marie's Spicy Reads

CLAIM is since the first publishing a bestseller at AllRomanceEbooks!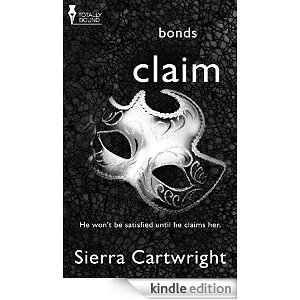 CLAIM
Buy at
Totally Bound, eBook
Totally Bound, PRINT
Amazon US, PRINT
Amazon US, Kindle
Amazon UK, Kindle
Barnes and Noble, Nook



All Romance E-books
MASTERED Series:

For The Sub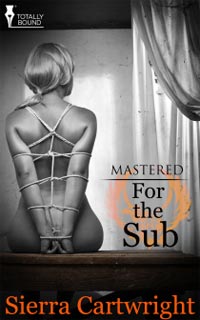 Book five in the Mastered Series.
His heart wasn't in it… Dom Niles Malloy has locked his favorite flogger in a drawer and has all-but left the lifestyle, but then Brandy Hess shatters his solitude and shakes up his life, challenging him to fully live again.
What you see isn't what you get…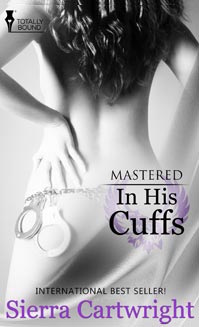 In His Cuffs
Book four in the Mastered Series.
Things couldn't get worse. It was bad enough that Maggie had to spend the days with her boss and nemesis. Now to find out he's a Dom at her favorite place to play?
Maggie Carpenter needs an escape from her everyday life and her overbearing boss. David Tomlinson has ruined her life and career by acquiring her family's business and tying her to an untenable employment contract.
Order now at:  Total E-Bound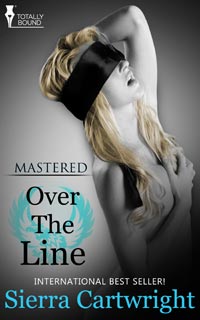 Over The Line
Book three in the Mastered Series.
He can't say he wasn't warned…From the moment he's cautioned to avoid the submissive who snares his attention, Dom Michael Dayton is intrigued. With her tight dress, flowing hair and honest dialogue, what could be more perfect than a few hours together?
Reader Advisory: This book contains scenes of anal sex and use of sex toys.
Order now at: Total E-Bound


BDSM Book Reviews

found
the 2013 Book of the Year!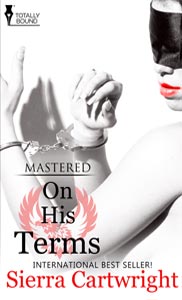 On His Terms
Book two in the Mastered Series.
At The Den nothing is off limits. In an idyllic mountain setting on a dozen secluded acres of land, Master Damien Lowell has made his spectacular Colorado home "the Den"available to a select group of people. Doms and subs are invited to explore the intricate nuances of dominance and submission, of sadism and masochism, of exquisite bondage, and strict discipline.
Order now at:
Total E-Bound
Amazon Kindle version
All Romance
Or read more…

Sierra hit the amazon bestseller list place 1 !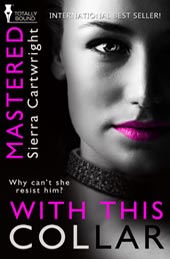 AVAILABLE NOW in Print:
With This Collar
Mastered Series, (Volume 1)
[Paperback]
Book one in the MASTERED Series: "With This Collar"
Julia Lyle will have nothing to do with domineering men, no matter how tall, dark, and sexy. But Dom Marcus Cavendish will be satisfied with nothing less than collaring the fiercely independent Julia.
Sierra talks about the Mastered Series: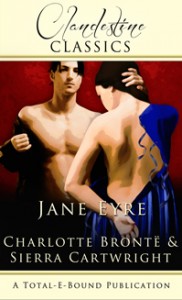 THE SECRET IS OUT!

The very first book of a brand-new genre:
The Classics Revisited: Historical & BDSM
One of the world's best loved books, Jane Eyre, is retold with scorching passion. Mystery, betrayal, scandal, and a love that transcends time!
Get this book NOW!
The Clandestine Classic, Kindle version, is on sale at amazon.com!
Bestsellers:
"Doms of Dark Haven"
"This collection is fantastic!"–Romantic Times Magazine
An Indie Press Erotic Romance/ Fiction Nominee!

"Doms of Dark Haven 2: Western Night" are in PRINT now!
Return to Dark Haven for Western Night…
Three women, one night. Four of Dark Haven's Doms are ready to tie them up, ride them hard, and brand their hearts – the perfect "Mommy Porn".
Doms of Dark Haven received an incredible review from RT Magazine. Click here to read more…