Press Photo | Interviews | Media News | Nominations
.
Sierra Cartwright

Press Photo
For media and press purposes download here Sierra's official photo by right mouse clicking on this link and choose:
"Save Target as…" or "Save Link as…"
For more photos please click here…
.
Interviews
BOOKPLEASURES, Norm Goldman, Publisher & Editor
Meet Sierra Cartwright, Acclaimed Author of More Than Twenty Enthralling Erotic Romance Novels and Winner of Numerous Awards
USA Today
Interview: Sierra Cartwright, co-author of erotic version of 'Jane Eyre'
FOX Orlando / WOFL-TV
Video Interview: Sierra Cartwright interviewed on FOX Orlando / WOFL-TV
Night Owl Romance
Interview with Sierra Cartwright

Long and Short Reviews
Author Interview: Sierra Cartwright

Two Lips Reviews
Interview with Sierra Cartwright
Sierra talks about the Mastered Series:

.
Press Releases
BIND: 'Even racier than Fifty Shades!' Daily Mail Online
Media News

Four and a half stars! "Well done!" RT Book Reviews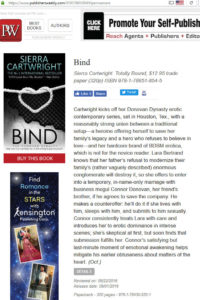 BEST BOOKS review for the book "BIND" at publishersweekly.com
REVEAL UK: "Fiesty, dark and passionate, Sierra Cartwright's latest novel leaves the likes of 50 Shades firmly in the pale. Submit – if you dare."
LOOK MAGAZINE: Fifty Shades Of Grey: 5 Books That Put It To Shame
MailONline: EVEN racier than 50 Shades! Another female Brit dominates erotic fiction charts, taking on EL James with steamy new series
HANDBAG: Exclusive! Read an extract from Sierra Cartwright's sinfully sexy BDSM book 'With This Collar'
THE SUN: Sherlock and Watson have gay affair in shock new novel
THE GUARDIAN – Why we're putting the 'missing' sex scenes back into Charlotte Brontë«
THE TELEGRAPH: Erotic makeover for Jane Eyre and Pride and Prejudice
POP WATCH – Classic literature gets sexed up: "Hands on yonder branch!"
THE INDEPENDENT: Oh Mr Darcy! Pride and Prejudice among classic novels to receive erotic makeover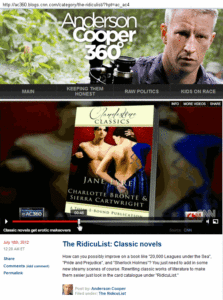 Commented by ANDERSON COOPER 😉
click this link to see the video…
THE SIDNEY MORNING HERALD: Fifty Shades of Austen: classics get 'mummy porn' makeover
TOTAL-E-BOUND Publishing – Clandestine Classics
SCOTSMAN.COM: Jayne Eyre set for "mummy porn" rewrite
FINE BOOKS MAFAZINE: Classic Novels Get Erotic Makeover
METRO: Classic novels get erotic makeover to spice them up for new generation
.

Into Kink? You May Be Psychologically Healthier Than Your Vanilla Friends!
In an interesting new study by LiveScience, people who are into kinky sex may be psychologically healthier than those who are not.
The article does state that the study was made up of volunteers, so it may not reflect the entire population.
However, in the study, researchers found that people into BDSM (bondage/discipline/sadism/masochism) actually scored better on some mental health indicators of mental health than their "vanilla" counterparts.
Note: The study was published on May 16 in the Journal of Sexual Medicine.
Contact
Contact Sierra Cartwright
Denver, Colorado
Sierra Cartwright hits bestseller lists…
… Regularly!

Bestseller on amazon.com
(Click on image to enlarge)

Bestseller on Fictionwise eBooks
(Click on image to enlarge)