'Even racier than Fifty Shades!' Daily Mail Online
BIND
The Donovan Dynasty
The No1 International Bestseller
Sierra Cartwright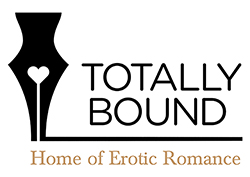 Published by Totally Bound, 5th May 2016, £7.99
Available in paperback original for the first time
---

Bind  is the first in The Donovan Dynasty trilogy
'Cartwright's writing binds you from the very beginning and doesn't release its hold until well after the last page.'
– Erin Noelle, USA Today Bestselling Author
'A master storyteller, Sierra Cartwright never fails to find the erotic romance sweet spot.'
– Mari Carr, New York Times and USA Today Bestselling Author

---
Only one man can help her. The only question is, what price is she willing to pay?
Faced with the potentially overwhelming loss of her family's fortune, Lara Bertrand turns to the one man who can help her, the gorgeous and powerful Connor Donovan. She knows he's dangerous to her on every level. Only desperation would drive her to make such a risky proposition. After all, she knows all about his ruthless nature and relentless determination to succeed.
When the classy, elegant Lara walks into his office with an outrageous proposal, Connor is stunned and more than a little intrigued. Ever since he first met her, he's been attracted to the cool beauty, but she's more than kept her distance.
Connor is absolutely willing to help her out. For a price. He not only wants her hand in marriage, but also her total submissive surrender…
About Sierra Cartwright
USA TODAY BESTSELLING AUTHOR
Born in Manchester, England and raised in the US, Sierra Cartwright is the acclaimed author of more than twenty erotic romances.
Cartwright has been interviewed by USA Today, featured on the Mail Online and she did a segment for the Orlando Fox affiliate with Chase Cain for her inclusion in the Clandestine Classics collection by Totally Bound Publishing, which received worldwide coverage. Time Magazine, Entertainment Weekly and numerous other online sites also wrote features about the provocative book.
Sierra is a multiple CAPA nominated author who was delighted by the success of With This Collar, the first book in a six-book series "Mastered" from Totally Bound Publishing. With This Collar reached #1 on the Amazon UK chart and #3 in the Amazon US chart.
More recently, Bind, also reached #1 on the Amazon US Kindle chart.
Sierra is available for interview and is happy to write features. For further information, please contact Emily Burns, Head of PR, emily.burns@bonnierpublishing.co.uk
Notes to Editors

About Totally Bound Publishing:
Totally Bound Publishing offers pure unadulterated romantica escapism of the highest quality for the modern woman. The best stimulation for the imagination.
www.totallybound.com

About Totally Entwined Group:
Totally Entwined Group Ltd is a leading eBook publisher in the UK and US. It comprises of Totally Bound Publishing (Romantica) & Pride Publishing (GLBTQI Fiction) publishing over 350 authors internationally.

About Bonnier Zaffre:
Bonnier Zaffre is a division of Bonnier Publishing, which encompasses the children's imprints Hot Key Books and Piccadilly Press and adult fiction imprints Zaffre, Twenty7 and Totally Entwined Group (Totally Bound Publishing and Pride Publishing). Bonnier Zaffre combines brand new voices with established storytellers to bring a broad spectrum of high quality and innovative fiction to all ages.