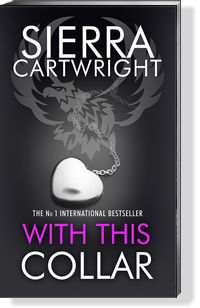 Order Options |

Audio Book | Amazon Top 100 Place 1 | Reviews | Interview
Mastered Series
"A++ … With This Collar is a must have for anyone's BDSM collection." — BlackRaven's Reviews[/caption]
Julia Lyle will have nothing to do with domineering men, no matter how tall, dark, and sexy. But Dom Marcus Cavendish will be satisfied with nothing less than collaring the fiercely independent Julia.
Nothing could have shocked her more!
Julia Lyle is invited to her best friend's wedding and is stunned when Lana kneels to accept her husband's collar. When Julia starts to object, firm, relentless hands land on her shoulders. The man behind her threatens to turn her over his knee if she interrupts. She's outraged, but there's no doubt he's serious.
After the ceremony, he offers her a glimpse into her friend's lifestyle, if she's brave enough to accept.
Master Marcus Cavendish is everything she doesn't want in a man – dominant, self-assured and arrogant. So why can't she resist him?
Telling herself that learning about the lifestyle will make her a better friend, Julia agrees to submit to Master Marcus, but only for the evening. Firm and unrelenting in his handling of her, he introduces her to his tawse and the pleasure/pain of a spanking delivered by a competent Dom. The experience unnerves her, making her question everything she thought she knew about relationships, and his forced orgasms leave her shattered.
No doubt the scene seduced her, and that makes her doubly determined to avoid him. She has fought hard for her freedom and vowed only to date nice men, and Master Marcus is anything but safe.
Marcus is undeterred. Julia is a natural sub. The way she responded to his touch, his voice, his punishment proved it. Now he has to convince her to yield to him, submitting to his tawse as she kneels to accept his collar.
Audio Book
Legacy covers: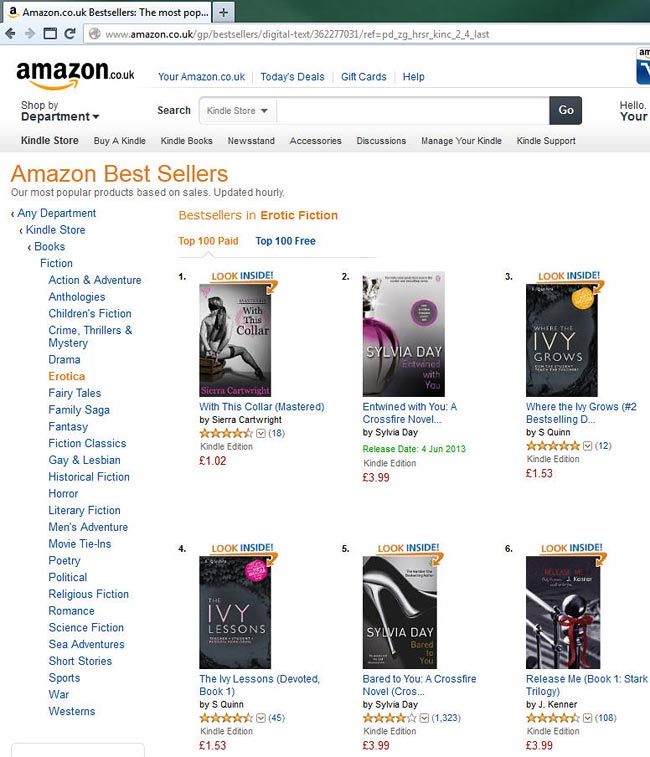 Reviews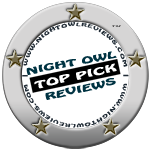 This very spicy read gives a beautiful exposition of one woman's journey into an erotic world that she knew very little of. The advantage of having a friend who is wholeheartedly participating helps mitigate a little of her fear and allows her to indulge her curiosity but the story provided a nice (and sizzling) description of the flowering of the relationship. The patience displayed by the man who learns to better identify his own expectations gives one a great sense of what a healthy introduction to this lifestyle should entail and I liked the following quote: "There's no reason, ever, to participate in anything to do with BDSM unless you like the experience. It should add to an already happy life. It shouldn't be a substitute for it." I think that says volumes. There are very hot scenes that demonstrate some of the techniques that can be applied but this is also a delicious love story and I look forward to reading more titles from this gifted author. "With This Collar" by Sierra Cartwright is an erotic tale that follows one woman's exploration of the world of BDSM. Marcus Cavendish is drawn to Julia Lyle's naivete about the unconventional world that her friend Lana has committed to and he is determined to enlighten her and convince her of her submissive nature. Julia's one experience with a overly controlling lover has made her determined to never be in that position again. Marcus is determined to show her that there is a world of difference between being with a domineering and inconsiderate partner and participating in a consensual and extremely stimulating BDSM relationship and he gradually expands Julia's horizon in a safe but challenging manner. Julia just has to make up her mind what she truly wants and maybe she needs to teach Marcus a thing or two as well.
The Romance Reviews Top
Ms. Cartwright managed to deliver yet another amazing BDSM story. I enjoyed reading WITH THIS COLLAR immensely. It is well written and perfectly paced.
Ms Romantic Reads
I loved this story! It was well paced and very well written with great dialogue and humor. The characters were well fleshed out, and it didn't take forever to get their back stories which made them easier to interpret and understand as the story unfolded.
Short & Sweet Reviews
Sceptical Julia is shown what she is missing when Master Marcus shows her the BDSM lifestyle 4/5.
Interview
Interview with Sierra Cartwright
A very in-depth interview about her book "With this Collar" and many other questions.