I'll never forget the big black Labrador, hunched over, wet, shaking, trembling in his owner's arms.
Last Tuesday, I was at Atmosphere, the salon in Galveston and Yvonne, my stylist mentioned Harvey. It was the first I'd heard of it. At that point, it was a tropical depression off the Yucatan Peninsula. But she was concerned enough to start adjusting her Friday schedule.
Within fifty-two hours, Harvey was pummeling Texas as a category four hurricane.
I spent days trying to convince my dad to join us in Houston. He lives on a boat in Conroe. His answer to me, "My house floats!" And I was mumbling, "And it can sink!"
Over the next few days, reports came in, one more horrifying than the next. Dickinson, League City, and other areas were devastated. Roxanne, the owner of Atmosphere, was frantic because her parents were flooding. My friend Andi Joy was scooped out of her house by her mother and moved to a hotel. Another friend had water creeping into her house and couldn't open the back door or the front door. The Cajun Navy started to arrive. And Galveston Duck Tours deployed their Duck Boats to help rescue people.
And I felt guilty because we were on high ground. We had tons of rain, relentless, ceaseless. I was wracked with anxiety about what my friends were going through. Even though I slept, I felt exhausted. My dreams were haunted, and I had to force myself to step away from the constant, relentless coverage. I was anxious to get out there and help, but there was no way to get to those places. Houston had become an island.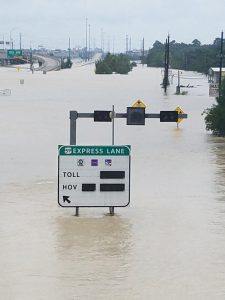 The rains kept coming. We had issues with the power going out, but it was restored promptly, within hours. I again asked my dad to consider coming here, and he refused.
By Sunday, streets in our area began to flood, and the parking lot at HEB look like a lake. Grocery stores were closed. The ones that were open were on limited hours. Very few businesses in the city were open, and the gas stations started to run out of fuel. Some of the stores covered the pump handles to make it easy to see they were out.
On Monday, the nearby San Jacinto River swelled significantly as flood waters and rain continued.
Then Tuesday dawned with driving, torrential rain…
We decided to head out early to find an open grocery store and saw the unimaginable.
We turned down a street leading to Kingwood Drive.
A trail of bright red taillights was the first sign that something was going on. Big trucks were everywhere, most hauling boats or kayaks. Dozens of people with umbrellas were milling about. Out of curiosity, I climbed out of the car and went to see what was happening.
And I saw a man walking out of the floodwaters, carrying a great big, wet black lab. The dog was trembling.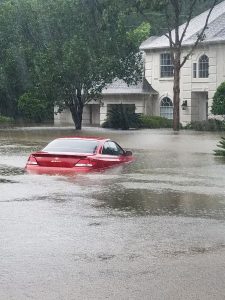 It was then that I understood what I was seeing. Houses were half under water. People were being helped from boats, into the water where they were walking up onto a stranger's lawn. They would stand there, paralyzed, not knowing where they were or what to do next.
I pulled out my phone to check where to take people. Where was the nearest rescue center? I'd heard on the news that Kingwood High School was a transportation center, but we couldn't get there. And because we were now in an emergency situation, my cell phone was not working. I couldn't reach the internet, and when I dialed my phone, nothing happened.
On Messenger, I contacted my sister and Miss Whit for help. They were coming back with information on schools, but I didn't know where those schools were. I told them to open Google Earth, search for our address and look for places we could reach without crossing Kingwood Drive or West Lake Houston.
Because of the way the messages were being sent and delivered, no one in my family could tell whether or not we were safe or if the evacuation information we were asking for was for us. So they went through some rather upsetting hours.
Whitney noted that Kingwood was the highest priority for water rescues in the Houston area and help was coming.
But it wasn't here yet.
We rushed back home to grab towels, plastic bags, a pair of scissors (so that we could turn the plastic bags into rain ponchos), bottled water, snacks, and to try to find information, which was in short supply. Schools that were reported as shelters were not open.
At home, the power was out. I thought nothing of it, honestly. The power had been up and down, and I was confident that it would be back on soon.
We drove to the school that we heard was the official shelter to ensure it was open as we didn't want to subject evacuees to further, unnecessary stress.
And we saw that Kingwood Bible Church had just opened its doors. They put up two poster boards marked up with black Sharpie, reading, "SHELTER."
We headed back to the flood.
We parked the car and climbed out. Don looked at the sheer number of people. "How do we know who needs help?"
"It's easy. People needing help look dazed. And a number of them are not wearing shoes. And they're all carrying something." Some clutched small grocery bags. A few had backpacks. Others had pieces of luggage carefully stowed inside garbage bags.
I rushed over to a family who was standing on a street corner. They had kids. And a dog.
They had somewhere to go. But they didn't know the address, and they couldn't reach their friends because of the issues with no cell phone service. They didn't want to be separated, and they needed to be with their furbaby.
We got them into the vehicle, gave them towels to dry off, and water to drink. They knew the name of the street had Shadow in it. And the curb was painted with the house number and an Ohio State Buckeye.
And that was enough information for us to get them where they were going. The kids were anxious to tell their stories. They'd been playing games upstairs in their house when they heard the boat.
The mom told us that she had a bag full of ready-to-eat meals. "You add hot or cold water," the young man informed us. But in their haste to leave, they'd left behind their food. She went on, "We didn't know whether or not it would be our only chance to leave."
It turns out they were from Denver, where I grew up. I asked where. "The north Denver area. I'm not sure you would know it."
"Try me."
"Thornton."
I laughed. I spent twenty years in Thornton. Both of my kids attended Thornton High School. I went to a Thornton High School prom.
And her name? Angie. Just like my sister.
The dad had ridden in the back of the pickup with the dog. And when we arrived, they were drenched. The poor furbaby was hunched up, shaking, unable to move, let alone jump out of the truck. The big doggie had to be cradled and lifted down.
By the time we returned to the Kingwood Drive area, things were worse. More and more boats were bringing out more and more evacuees.
We were pressed into service to direct people, to prevent cars from going down the street because it needed to be kept clear for vehicles with boats. And they kept coming. Neighbor after neighbor, some with kayaks, most with fishing boats, one with a massive pontoon boat. We turned away one volunteer because he had no plug for his boat, and we told them not to risk sinking. He was so anxious to help that he said, "We have a pump for the water. It should be okay." We told him it wouldn't be.
People, young, old, carrying kids, holding onto cats in carriers, cradling their dogs, were helped off boat after boat. We carried their luggage and belongings as we directed them to help.
In all the gripping footage I've watched over the years, I've never really seen what happens when people are assisted from the boat. In this case, able-bodied people climbed off into the floodwaters, about knee-deep. (Boats cannot come in closer for fear of damaging their propellers.)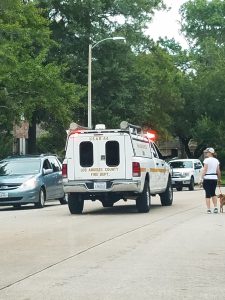 People needing more assistance were carried onto the grass. One lady was carried chair-style by two men as she was weak and elderly. But when she got onto the grass, there was no where for her to sit. So she had to stand, held up by others who were carrying belongings. (We got them into a car as quickly as possible.) One man was helped off a boat, and his wheelchair was handed to us by a volunteer. But there was no where to open up the wheelchair.
One elderly couple shuffled past us. The wife's hand was on her husband's forearm. And he kept repeating, "Thank you to the volunteers. Thank you to the volunteers. Thank you to the volunteers."
It's funny the things I remember. How cold the floodwater was on my shins. The way water-logged grass slid away under my feet as I was carrying someone's luggage up a small hill. The household that plugged in an extension cord, attached a power strip to it and placed it in a plastic Rubbermaid basket alongside a sign reading, "Need a charge?" Forming instant relationships and working side-by-side with people whose names I don't know and will never see again.
We continued until boats stopped coming and official help arrived. One team had driven in from Los Angeles.
When we were leaving, I asked one woman if I could pet her furbaby, and she responded, "I wouldn't. It's not mine. And I know nothing about this dog." One of the women who'd been there when we first arrived had five dogs, none that she knew, in her car for safety.
Compelled to do what we could, we drove back to the church and school again to see what we could do for them. At both locations, people were exiting their cars. Almost all of the kids were clutching pillows from their beds.
Kingwood Bible Church said they needed food. I posted that request on Facebook. Within seconds, author Misha Elliott messaged me for my PayPal address. She sent money immediately to help. We drove to two different cities searching for provisions.
As we traveled down Northpark, there were boats and vans that were accompanied by a police escort— big black Suburban-type SUVs with sirens and flashing lights along the baseboards. The only other time I'd seen something like that was on a presidential motorcade in Denver for the Democratic National Convention. (I learned today that all of those vehicles are FEMA-related.)
At the end of a very long, emotionally draining day that I'm still trying to process, we returned home. And discovered that we still had no power. We'd spent all day helping others and hadn't confronted our own reality.
I set out to find ice. I pulled into every convenience store and gas station that I could find in Kingwood. At one Exxon station, I pulled open the storage doors, saw one bag and received a jolt of excitement before I realized that it was full of water. The ice had melted.
All over town, stores were closed and gas stations were out of fuel. Surprisingly, I found a number of donut stores that were open. One had a line at least twenty vehicles deep.
I continued north, to Porter. I found no ice there. In all, I drove fifty or sixty miles roundtrip, but I returned victorious.
In an ironic plot twist, my father sent me a message, encouraging us to shelter on his boat.
Despite my mental, physical, and emotional exhaustion, my mind was in deep turmoil, and when I went to bed, sleep eluded me. Images of the dogs, kids, and elderly flashed in a random strobe-like fashion through my mind. And in addition to the heat and humidity, there was an unholy silence. Like on September 11th, there was no airport traffic. The only sounds were occasional (nerve-wrecking) rescue or military helicopters. Twice, big, slow propeller planes lumbered overhead, droning like bumble bees.
In the middle of the night, I woke up, drenched in sweat, plagued by nightmares. I powered up my phone to check the time. 3:02 a.m. And I saw that powering up my phone drained ten percent of its remaining power. (I tried to charge from a USB in my vehicle, but a warning flashed on my screen that the battery was draining faster than it could charge.)
We do have one excellent lifehack to share: if you can boil water on a camp stove, you can pour the hot water into your coffee maker and it will brew a pot of goodness.
To distract myself, I spent yesterday morning cleaning the house and beginning the outdoor cleanup. Almost all sound was absent. Garage doors were closed. No kids were going to school. No one was going to work. No planes were flying. Even the helicopters were absent. And the strangest thing…? One neighbor had a generator running. It reminded me, somewhat obscenely, of the sound of a carnival.
I had twenty-seven percent power remaining on my phone when I powered it up after one o'clock. The Houston Chronicle website reported that bottled water was needed at one of the shelters, so we loaded up what we had and drove it over. It felt good to DO something.
Hours later, my last nerve frazzled, power was restored. The first thing I noticed was the sound of the washing machine. It had turned off mid-cycle perhaps thirty-one or thirty-two hours previously.
Life is slowly returning to normal for us. We haven't had mail or trash service since this began, but these are tiny, tiny issues.
I will never forget the absolute shock of watching an airboat navigating our streets. Or the way neighbors came together. Or the sight of people driven from their homes. Each time I think of it, tears threaten again. That will take some time to get past
Some of the grocery stores are open for longer hours today. A few more restaurants were able to open. But for many, many people in Houston (and a lot of South East Texas), this is far from over. In some cases, recovery is days, weeks, months, even years away.
I'm still having a difficult time sorting through my feelings. Loss and devastation shattered parts of my heart. But some of my tears came from witnessing the way a community gathered together.
I want you to know how much I value you and appreciate you. I've heard that life can change in an instant. But to see it happen for so many people at the same time during a catastrophe is something I'll never forget. Love your people hard. And give that furbaby an extra cuddle. Even if they are mighty and fierce, they, too, need to know you love them and will protect them.