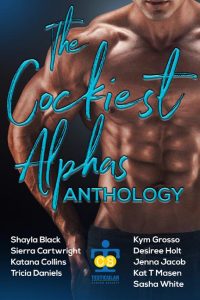 Have you ever wanted to meet some of the Cockiest Alphas? Here's your chance!
"All these Alphas…yes, please!"
~Cup of Tea Book Blog. Five out of five stars!
They're the naughtiest of the naughty, the boldest of the bold, the sexiest of the sexy. They've got what all the other women want, and they know it. What's that make them? Just one word will do.
Cocky.
They've got it. You need it. Now you can have all the cocky you can ever handle, in one crazy, cocky volume from some of your favorite romance stars, getting their cocky on with their cockiest alphas.
Best of all: it's a lot of cocky for a great cause, so everyone's got the win!
Come on. You know you want to. Get cocky.
I was so excited to have the opportunity to contribute to the Cockiest Alphas anthology. Not only are all proceeds benefiting charity, but I had the chance to be featured alongside some of my favorite authors, including Shayla Black, Jenna Jacob, Desiree Holt, Sasha White, Kym Grosso, Katana Collins, Kat T Mason, and Tricia Daniels.
My book introduces my newest series, the Titans. Jaxon Mills sees his friend's daughter at an upscale club, dressed scantily. She's supposed to be safely tucked away at grad school, where she's safe from men like him.
I hope you'll support the charity that is near and dear to me, and I hope you fall in love with Jax. Jax and Willow's story, with lots of new content, is available now, retitled as the Sexiest Billionaire!
TITANS — An exclusive private society of the world's most powerful, ambitious gentlemen