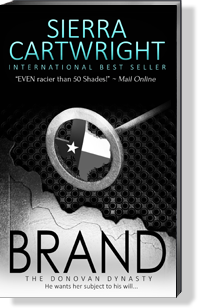 The Donovan Dynasty Series
He wants her subject to his will. She's scared she may never want to get away. The first time Sofia McBride meets the strong and determined Cade Donovan, he warns her to keep her distance. She tells herself to heed his words, but she's stunned to realize her depth of attraction to this intimidating man.
She knows she should stay away from him, but try as she might, she's unable to resist him or his sexy, erotic demands. The deeper she becomes ensnared, the more she realizes she may never want to get away.
All his life, enigmatic rancher Cade Donovan has chosen women who don't expect too much from him. But when a storm strands him with Sofia, his lovely, won't-take-no-for-an-answer event-planner, all his dominant and protective instincts flare.
He discovers that he wants everything she has to offer and wants her subject to his will. But Sofia's beauty hides a determination he hasn't counted on. Her untamed responses send him on a journey that will banish his demons and change them both forever.
Reader Advisory: This book contains scenes of anal play.
Order now:
Read a 14-page excerpt… You need the name Sierra to log in.
Paperback cover: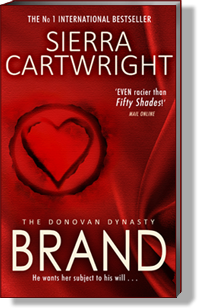 REVIEWS
"I want more and am looking forward to future stories in this series. This is one to be read again."
~Literary Nymphs
"…Cartwright gives you a well written story with the relationship between the main characters as the focus. Her characters are so well rounded. And can she write smoking hot sex!"
~Laurie P for The TBR Pile Rating: 5 Stars – A Must Read
"I am completely in love with Cade Donovan! That sexy cowboy can tie me up whenever he pleases! Cartwright gives us another sensual, passionate, and erotic romance in her fantastic DONOVAN DYNASTY series."
~Shayna Renee's Spicy Reads Rating: 4.5 STARS
"Hello, Cade Donovan. who would have thought I'd like you this much? Like all books from Ms. Cartwright, Brand captures your attention right away and refuses to let go until you've finished the very last word on the very last chapter."
~Sultry Steamy Reading
"I can't wait for more!"
~Rachael for Wicked Reads