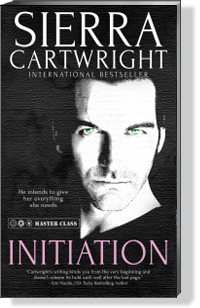 MASTER CLASS Series
When wannabe sub Jennifer Berklee calls him Master and begs him to flog her, PI Logan Powell knows all his military training won't be enough to keep his jaded heart safe.Private investigator Logan Powell does the women of the world a favor by avoiding emotional entanglements. They deserve to be loved and cherished. And he's not capable of it.
That belief is challenged when he sees Jennifer Berklee at a BDSM play party. The innocent wannabe sub is everything he wants to avoid. He fears all his previous military training won't be enough to keep his jaded heart safe.
Anything She Wants…
Jennifer has been interested in BDSM since she first heard about it. And after her engagement ends in an embarrassing disaster, she's determined never to settle again.
But when the stunningly sexy Dom Logan Powell offers to scene with her, she is overwhelmed and flees.
One evening, Logan and Jennifer are set up by well-meaning friends. This time, Logan is determined not to let her go. Jennifer will submit to him, no matter the cost to either of them.
Reader Advisory: This book contains scenes involving anal sex.
Publisher's Note: This book has previously been released elsewhere. It has been revised and re-edited for re-release with Totally Bound Publishing. It has been extended by approximately 60 pages.
REVIEWS
Reviews by the Wicked Reads Review Team
Reviews via Goodreads
Ruthie –
4.5 stars of sexiness and fabulous chemistry!

Yum, yum, yum! I love this kind of story. Not only is there a wonderful connection between the leads, but as well as the everyday humour and informality of new friends, we are given an insight into BDSM. The lack of unnecessary (in my opinion) punishment of a cheeky newbie sub, and the obvious pleasure that the two take in each other's company makes for a really, really enjoyable read. It is simple, effective, and incredibly engaging reading.

Don't read any more of the review – go get a copy and enjoy!
Reviews by Knotty Girl

Am I going to give this book a 5 orgasm rating? Absopositively!!! Why you ask? Because it's incredibly well written, the storyline pulls you in from the very first line of the book. I could probably poll every single submissive woman on the planet right now, me included, and they would tell you the same thing. We all the same thing, We want Master Logan! ♥ *sighing*

Logan Powell decides to come out of his self-imposed isolation after cutting off the fairer sex because of a bad breakup four years earlier. He sees neophyte sub Jennifer Berklee. After watching her for a bit, he sees her go with another Dom, the scene goes poorly, and Jennifer bolts. Logan sees his chance and runs after her, but he strikes out.

A few weeks later, he's introduced to her by his friend. Can they make it work this time? You really need to grab a copy of this book and find out for yourself!