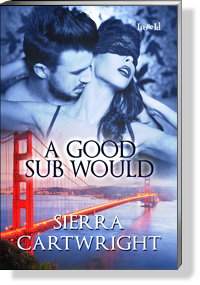 Shelby, a wanna-be sub, hasn't found a Dom strong enough to push past her need to be in control. Her experiences as a sub have been yawn-inducing. She's fantasized plenty, though, about Trevor Lawton, one of Dark Haven's legendary, mouthwateringly firm Doms.
As the stakes get higher at the charity poker match, Dom Trevor Lawton is fascinated by the woman kneeling across the table from him. Problem is, she's not a good sub. Oh, she tries, and she's lovely. But she's not very good at following orders. The woman needs a firm, unyielding hand… One like his.
"A Good Sub Would" was previously released as part of the Doms of Dark Haven 2: Western Night anthology.