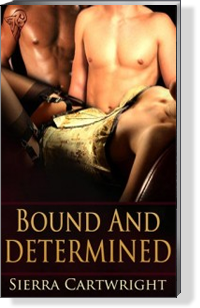 The Quinn men have been kidnapping O'Malley women for eight hundred years, and when Sinead O'Malley finds herself upside down over her mortal enemy's shoulder, his strong hand on her rear, she fights her response as hard as she fights him.
The damn men of the Quinn clan have been kidnapping the women of her family for nearly a millennium.
When Sinead O'Malley finds herself upside down over the shoulder of the tall, dark, and mortal enemy Jack Quinn, she's determined to fight him every step of the way.
Enough is enough…
Jack is bound and determined to break the eight hundred year old curse, no matter what it takes, including tying her to his bed and demanding her total submission.
Publisher's Note: This book was previously released by another publisher. It has been substantially rewritten, revised and re-edited for release with Total-E-Bound.
Reader Advisory: This story contains wickedly hot MM and MMF BDSM scenes in a MF relationship.