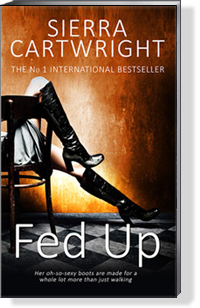 Up Elizabeth Driscoll is fed up with her barrister-husband's work schedule. She's sick and tired of Jon coming home late every night with no energy left over to satisfy her sexual appetite.
Once and for all, Beth takes control. That night, when he comes home from work, she's ready for him.
Dressed in high-heeled diva boots, a bra and stockings without panties, she grabs him by the tie, yanks him close to her and latches onto him in a way that gets his attention in a hurry.
When she orders him to his knees, respected and revered attorney Jonathan Driscoll is stunned speechless. He never knew his sweet, mousy wife had a dark and dangerous side. Having no choice, he complies with her demands. Jon learns, the hard way, that her oh-so-sexy boots are made for a whole lot more than just walking.
Reader Advisory: This story has been previously released as part of the Naughty Nibbles anthology
Historical
In Mai 2016 Fed Up got a new look (see above), but here on the left we display the old cover design, for sentimental reasons 🙂