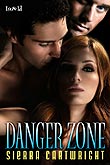 Who's watching you?
The highly specialized Hawkeye team protects the world's most valuable things, secrets, even people. But now one of their own needs protecting.
There's a cool million dollar bounty on Dom Wolf Stone's head. Trouble is, Stone's a loner and doesn't want the help.
That doesn't stop his submissive and former lover, Nate Davidson, or another determined agent, Kayla Fagan, from showing up at his Colorado ranch, uninvited. The spark, the anger, the hurt is still there between Wolf and Nate, and their first kiss reignites the flames that time and distance have not diminished. With Nate's help, Wolf uncovers Kayla's unexplored submissive tendencies. Under the Dom's unyielding instruction, Kayla explores her sexuality in ways that make her dizzy.
For Wolf, there's nothing better than having two very different, very willing, very pleasing subs at his command. But Kayla and Nate both want more. In addition to his love, they want him to give up control long enough to share his life completely. And that's the one thing Wolf is incapable of giving.