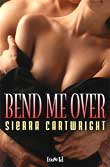 Tall, dark, handsome, and oh-so dangerous.
That's Trace Romero, Aimee's new bodyguard. Aimee has no desire to share her home with anyone, especially a Hawkeye operative who invades her space and thoroughly dominates her.
If it were up to him, Trace would be in a South American jungle, mixing it up with bad guys instead of playing bodyguard to the uptight college professor who makes him anything but welcome. But when he finds a stash of her BDSM novels, protecting the professor's body suddenly gets more interesting.
Aimee would send him on his way, if her sister weren't so concerned about the break in at her house, and if she hadn't threatened protective custody. But protective custody might have been slightly less overwhelming than Trace demanding her complete capitulation, mind and body, and more — her total trust. But that trust may be the only thing standing between her and a madman determined to kill her.
Publisher's Note: This book contains explicit sexual content, graphic language, and situations that some readers may find objectionable: Anal play/intercourse, BDSM theme and content, violence.

What Reviewers are Saying
"Sierra Cartwright does a wonderful job of keeping the reader entertained from start to finish. With characters full of emotion and depth this is a book that should not be missed and it is a great addition to this series." –Gabrielle, Got Erotic Romance