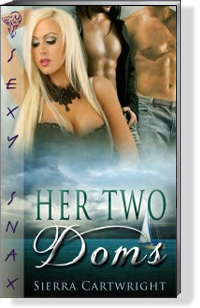 Double the trouble! Uptight attorney Victoria West takes a yearly cruise to get away from it all and explore her wild side with Dom Master Devon, but she's stunned when Master Gabriel shows up to give her the beating she craves.
Double delicious… Victoria West is furious when her regular Dom, Master Devon, isn't available for a scene. She has scened with him every year for five years, and there is a comfort level she expects for her large chunk of money.
When Master Gabriel commands her to her knees, she's overwhelmed. He's tall and rugged, exacting in his requirements, pushing her out of her comfort zone. The man wields a wicked flogger, and he is even more inflexible and demanding than Master Devon.
The next day, she's scandalized when both Doms drag her from her cabin to participate in a scene they've set up just for her. Uncompromisingly, the men demand all she has to offer, and then some…